Omni Ace
Kaiju Slayer
Community Coordinator
Jul 26, 2016
581
2,058
93
We had an amazing stream today [Thursday, July 1, 2021], PACKED with information! We also unveiled how player skins will work in detail using the UPGRADED founder's Geesuit. TLDR: We have achieved much and more to come! New build next week with Thumper encounter, and all monthly patron subscriptions get an upgrade to Peerless skins and are grandfathered! Finally, a limited time return of the legendary Freya and Wrenga Mount skin is back in the store for individual purchase!
This email is going to be a long one! If you'd rather listen or watch the stream instead to get all the juicy details, you can find the Twitch VOD link here: https://www.twitch.tv/videos/1073566636!
Make sure you follow us on Twitch
https://www.twitch.tv/grummz_em8er
to get all the updates!
Progress Report
We recently went over our original M3 funding goals and deliverables. We were amazed by what we saw. In our efforts to give you our very best, we forgot how far we've come since those early days! Just to refresh everyone's memories, here is what we originally promised:

That was it. Just an Omniframe, the pilots, Pilot entry/exit and shooting at static targets. We now have much more than that! On a stretch goal we promised a playable mockup. Next week, we are delivering the first draft of that mockup in a new demo drop for backers! Here is what that stretch goal list looked like:
Boom! We're well on our way to finishing this off! But that's not all. We wanted to do so much more. As competition for crowdfunding and the quality of indie games skyrocketed, we knew we had to rise to the occasion for a successful Kickstarter. Thanks to the backing of the community and the hard work of our team, we've achieved even more! Check out the list of things we've done. We like to call it the "overachievers list," a result of both backers and development working together!
We promised just a single player demo, yet we delivered worldwide servers that host 100 players per zone! The creation of the software and hardware infrastructure to support dedicated servers is a huge endeavor and, thanks to you, we did it! But we also did a whole lot more! We are grateful for your support which made this possible and we're excited for the future and the demo dropping next week!
The Character Skin System and UPGRADED founder's geesuit!
Previously we have showed the mecha customization system, but the character skin system is an entirely different thing. We've never revealed the details of the character skin system before but now we are ready to present a really unique system which was well received during our stream. To demonstrate our new designer system, we are using the newly upgraded Founder Geesuit V1 for M3 Firstclaimer and above backers!
Let's refresh your memory. Here is a screenshot of the original V1 Geesuits:
And here is our new Core Grade Founder's Geesuit:
We hope you like the upgrade in visuals! But we've done even more to the founder's geesuit and player skins. Keep reading!
Skin Rarity Explained
The Founder's Geesuit is rare, so rare it is Unique to M3 backers Firstclaimer and above. What do these rarities mean? Cosmetics in Em-8ER rotate throughout the year and can be earned in game or purchased on a schedule. Some skins are available all the time, while others may only be available once per year on average. Some skins, like this Founders Geesuit, is exclusive to M3 backers and therefore rated "Unique," never to be available again.
While actual rates may vary due to promotions and events, here is a table of the average availability by rarity for skins in the game:
What are Core, Artisan, and Peerless Grade skins?
Each player skin also has a "grade" indicating how customizable that skin is. Higher grades are more detailed, offer more customization options, and sometimes come with special perks like pets or mounts. There are three grades of skin, each upgradeable to the next.
Core:
The Core Grade is the basic skin, earnable in game or via the online shop:
Core Grade comes in a single color, or sometimes a handful of fixed colors. They feature high quality modeling and texturing, and some are rarer than others.
Artisan:
The Artisan Grade is one level up from Core:
Artisan Grade skins offer more detail, and are fully tintable in a variety of colors. You can retint your outfit at any time using in game resources and there are at tremendous range of possibilities. Here are just a few:
Peerless:
Peerless skins offer the highest in customization opportunities:
Not only are they tintable, they offer special shaders and the ability to switch materials and patterns. Want a cammo look? Apply a cammo shader. Want a gold look? Apply the gold shader to any color zone of your outfit!
Not only that, but Peerless Grade skins also offer mesh accessories which may include shoulderpad options, belts, or boot as an example:
With the power of combining materials with colors and actual mesh options, you can create an incredible variety of looks from just one outfit:
Upgradeable at Any Time
You can upgrade your outfit from Core to Artisan, and finally to Peerless at any time, even if the skin is not currently in rotation/availability in game or store. If you already own the skin, you can upgrade it. Upgrade your outfit by mining the resources you need for an upgrade kit, or by purchasing an upgrade directly from the store. Core Grade are planned to retail for $9.95 if purchased instead of earned in game. Artisan Grade is priced at $19.95, and Peerless at $34.95.
Already an M3 backer but not yet a Firstclaimer with a Founder's Geesuit? You can currently upgrade your pack here at any time before the Kickstarter to obtain this Unique Suit at the Peerless Grade! All Firstclaimers and above M3 backers will receive the newly upgraded Peerless version of the V1 Geesuit.
Freya and Wrenga Mount Back in Stock!
This Legendary skin is available only once per year and, as a peerless skin, comes with not just mesh accessories such as a variety of goggle types, but a full on Wrenga wolf mount! This limited time sale is only once a year and is available now at the Backer Store here! If you missed this skin via the Monthly Patron program, this is your chance to snag it! Many thanks to community member DeDa4ok and his partner for animating the concept art (and animating Grummz' v-Tuber avis)!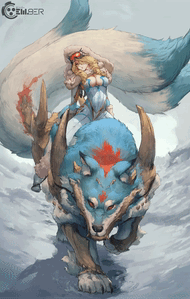 Monthly Patrons Upgraded to Peerless!
Have you now or ever been a Em8ER Monthly Patron? There is no better time to join! All Monthly Patron skins have been upgraded to Peerless Grade! Yep, that's right. For just $7.95 you are all getting Peerless Grade Skins as a massive thank you for making so much of this possible! Even if you are not subscribed today, all your earned skins have been upgraded to the full Peerless Grade skin, normally a $34.95 value per skin! This month's skin is Selusha, and is an Epic rarity, Peerless Grade skin with a variety of accessories!
Your Subscription is Grandfathered Forever!
These subscription prices won't last. We can't give away Peerless skins with mesh accessories, material swaps and possible mounts or pets forever. Or can we? Turns out, if you are subscribed at the time of the Kickstarter, you will be grandfathered in at the low $7.95 rate, to get skins of all levels, for the life of the game as long as you remain a subscriber! After the Kickstarter, subscriptions will be tiered, and the $7.95 sub will only offer Core Grade skins. Even if you have lapsed in your subscription, you can resub any time before the Kickstarter to lock in your grandfathered tier for the life of the game!
Sign up HERE (https://my.em8er.com/perks/campaign/7), lock your tier in and get the new Selusha Epic/Peerless skin!
The First Thumping Since Firefall. New Demo!
All eligible backers will be able to download a new demo next week with the first draft of our Thumper Encounter! This means all eligible M3 and Newcomer backers will get to experience thumping for the first time since Firefall! Not yet a Newcomer backer?
You can join anytime right HERE:
https://my.em8er.com/perks/campaign/5
Now while we are adding this new feature, you can expect some things to, as Grummz likes to put it "go back behind the curtain." Many of you know we are planning a massive graphics overhaul for the Kickstarter. We want to save this final look of the game for a grand unveiling. This means that while you will be getting more features and functionality in demos to come, graphics are reverting to what we call the "whitebox" stage. This is where models and environment models are represented by simple, untextured blocks or simplified representations of objects, while we work on the final game assets to be revealed at Kickstarter. So do not be alarmed if we shed a lot of polygons and pixels for our upcoming demos. We assure you we are saving some special stuff to reveal down the line!
Thank you!
Once again, we'd like to thank the community for their tremendous support of Em8ER. We've come a long way and we are getting so close! Please enjoy the upgraded Founder's Geesuit, as well as the upgrade to the monthly patron system. We look forward to thumping with you next week [Thursday, July 8, 2021]!